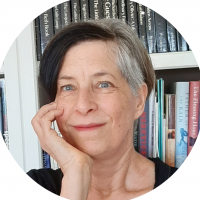 Amy Bernstein
Mystery, Paranormal Romance, Fantasy, Teen & Young Adult
Profession

Author, Consultant
In fiction, I write in multiple genres (dystopian, fantasy, romance, young adult) and forms (novels, short stories, plays, and poetry). I love them all! Why choose? My paranormal romance novel is forthcoming from The Wild Rose Press, followed by The Potrero Complex, a mystery-thriller, from Regal House Publishing in 2022. I tend to research every piece quite deeply (even the romance!), bringing my journalist past into my fiction. I'm perennially preoccupied with the ways politics and culture influence behavior. Theater productions include the Dada-inspired Terminal Lucidity; Raw, produced as part of the 2015 Women's Voices Festival; Exit Pluto; and Always Never Now (on YouTube). Selected short plays are published by Routledge and Leicester Bay Theatricals, and short fiction by Flying Ketchup Press and Fleas on the Dog. I am a 2020 Petrichor Prize finalist and a 2014 recipient of a Rubys Artist Award from the Greater Baltimore Cultural Alliance.
I do everything in the third person. Performance is about being someone else.
Renee Fleming
There are no secrets that time does not reveal.
Jean Racine
"I like books that expose me to people unlike me and books that do battle against caricature or simplification. That, to me, is the heroic in fiction."
Zadie Smith
My blade shall sever the fetters of iron and echo aloud in the forts of all tyrants.
Lesya Ukrainka
All that positive, radiant energy coiled inside you? Time to release it. The world needs it. Now.
Amy L Bernstein